Oh the joys of three days off. Then the manic rush to push five days of work into four.
Still, I'm not complaining because Monday was awesome. As they say, the proof is in the pudding so today I'm sharing all the lovely foods I enjoyed while savouring every extra second of no work.
It's WIAW!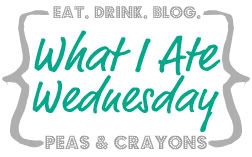 On Monday morning, I woke up and decided to go for a run. Just over 8 miles later and I was super proud, happy to have run so far and had more in the tank. I don't usually eat breakfast before a run (though I do for races) so my body urgently needed food – even though my appetite didn't agree.
Breakfast
Breakfast: Coyo mixed berries with two kiwis
I tucked into a Coyo with two chopped kiwi fruits. It took me forever to eat because my body wasn't fussed about food at all. However, that quickly changed when James surprised me with a special treat…
Snack
Snack: Lemon, toffee and half a mint and lime macaroon
Macaroons! He bought these at Patisserie Leila, a sweet French patisserie in the eclectic Stokes Croft area of Bristol. You can't miss the shop – it has a macaroons painted on the wall outside. There's a picture here.
We each had two and a half each, the toffee flavour was the clear favourite! After our sweet treats, we headed into town for some shopping, then up to Whiteladies Road for a fancy lunch.
Lunch
Lunch: goat cheese, pine nut, pumpkin seed and butternut squash salad, diet coke
If you're looking for a place to eat in Bristol (or Bath, or Milton Keynes), Aqua is always a brilliant bet. The food is a great price, tastes fantastic with great service too. I'd always admired the goat cheese salad but am obsessed with their tuna steak and always go for that. Maybe the Bank Holiday made me feel adventurous and wow – it was a fab choice.
We walked to do a big weekly shop and by the time we'd lugged it home my runger had hit in a bad way. I needed food and fast!
Snack
Snack: apple, nut butter (plus more scoops from the jar)
A super crisp apple and some nut butter was a brilliant bet and tasted great with a freshly brewed coffee. I felt so full after, which was lovely following the "I'm never going to be satisfied" runger that had struck moments earlier.
We were both not super hungry at dinner so I whipped up some meat-free fajitas by cooking peppers and red onion in coconut oil, adding fajita spices and serving with salad and lettuce leaf tortillas.
Dinner
Dinner: Six veggie fahitas, sprouts, avocado, salad, balsamic dressing, feta cheese (unpictured)
I had six of these absolutely beautiful wraps but had to keep chugging back water and munching squares of feta cheese as the spices were so hot. Well, they weren't (we picked a mild mix) but I have a super low tolerance to chilli – just a little makes my mouth feel as if it's on fire!
Dessert
Dessert: raw chocolate, haribo
I was so excited to tuck into this raw chocolate for dessert. It is super rich and satisfying and made in Bristol, so I feel even better about eating it! We ended up staying up late and munched on some quite a lot of Tangfastics Haribo later. You can't beat super-sour sweeties!
* Do you like spicy foods?
* How do you recover from a super spicy encounter?
I drink so much water and munch feta cheese but James suggested a spoonful of oil to soak it up – have you heard of this before?!
* Cake or macaroons?
Cake for me but macaroons are a lovely change.